---
Attention US drivers: Beware of impersonators posing as RideShare Drivers United. The RSDU does not ask for your phone number, membership fees or donations.
---
Rideshare Drivers United are calling a 24-hour strike on Wednesday, May 8th in LA, California USA. Drivers demand that rideshare giant Uber immediately reverse their announcement of a 25 percent wage cut and that all rideshare platforms guarantee drivers a $28 per hour minimum rate.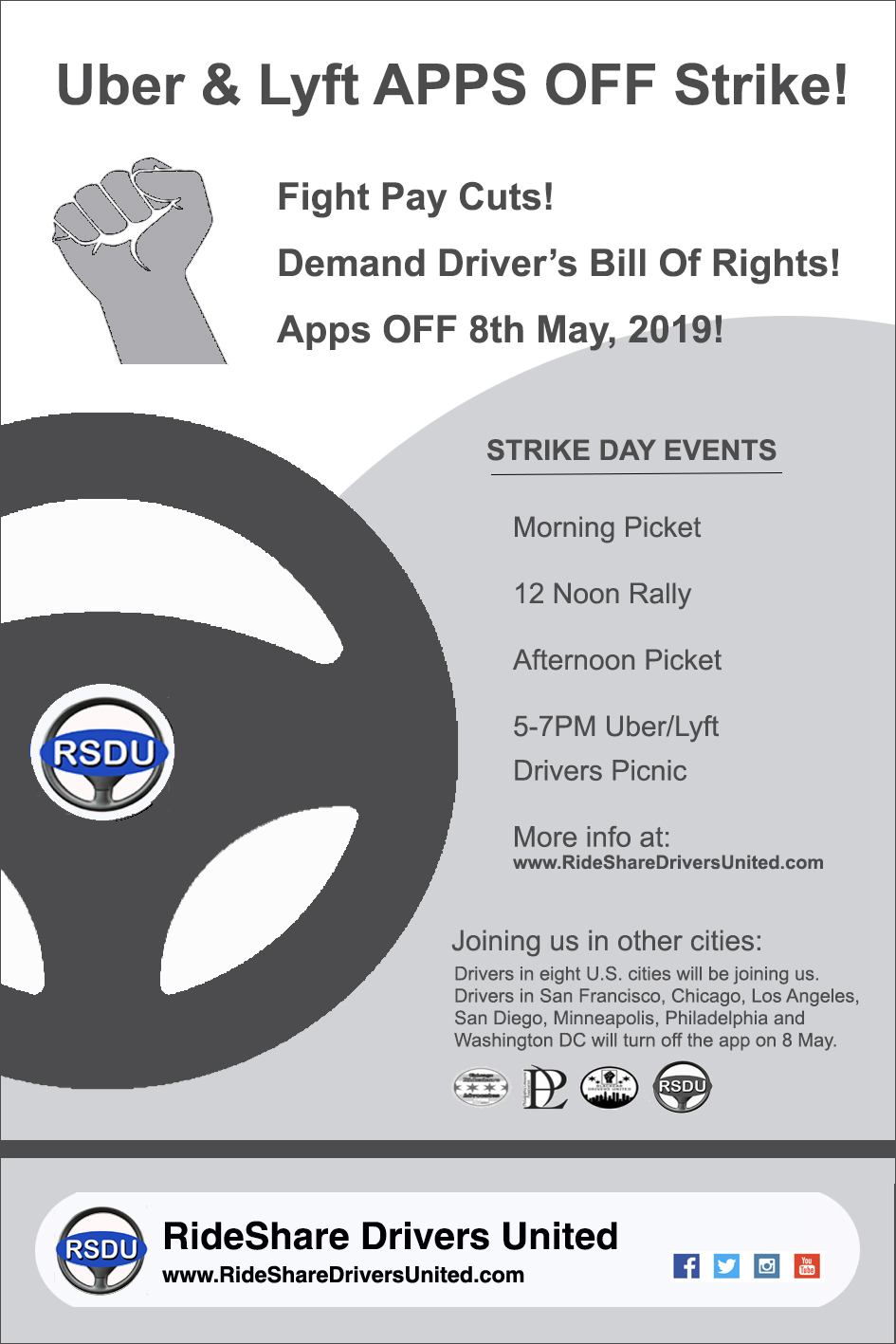 Uber and Lyft APPS OFF from midnight to midnight, Wednesday, May 8th. Drivers will picket between 11 am and 3 pm, with signs near Uber's Greenlight Hub in Redondo Beach, CA, USA. A rally will be held at noon, where drivers will speak about the impact of poverty wages in the rideshare industry. The strike will be the largest coordinated action among rideshare drivers in the United States.
Uber and Lyft drivers in eight U.S. cities will be joining us. Drivers in San Francisco, Chicago, Los Angeles, San Diego, Minneapolis, Philadelphia and Washington DC will turn off the app on 8 May.
Our demands include:
10% Commission cap for all ridshare platforms.
Match New York City's minimum $27.86 per hour pay before expenses.
Transparent and speedy de-activation appeals process.
Show drivers trip destination and estimated fare before accepting trip .
Rideshare vehicle cap.
Show complete fare breakdown to drivers.
↘ Join our forum
↘ Join our Facebook group
↘ Follow us on Twitter

March 8th Strike + Protest
Strike: 24 hours, 8th May 2019 Uber & Lyft apps OFF from midnight to midnight
Picket: 5/8/2019 5 AM – 12 PM at LAX
Rally: 12 PM – 1 PM at TBD
Afternoon Picket: 1 PM- 5 PM at LAX
Uber/Lyft Driver Food Truck Party: 5 PM to 7 PM @ Park near LAX TBD
Night Picket: 7 PM to 12 AM @ LAX
Other Organisations joining our action:
(please check directly with organizers for times and planned events):

[USA]
Chicago Rideshare Advocates
Web https://chicagorideshareadvocates.org/
DC Drive United
Web: https://driveunited.org/
NY Taxi Workers Alliance
Web: http://www.nytwa.org/
Gig Workers Rising
Web: https://www.gigworkersrising.org/
Boston Independent Drivers Guild
Web: http://bidg.org/
Philadelphia Drivers Union & Philadelphia Limousine Association
https://www.facebook.com/events/396292914432321/
Connecticut Drivers United
https://www.facebook.com/connecticutdriversunited/

[UK]
United Private Hire Drivers London
https://www.facebook.com/UnitedPHD
.
[Brazil]
AMASP – (App Drivers Association De São Paulo)
http://amasp.org
http://www.facebook.com/amaspmotoristas
.
Please make sure to register with our system:
.
Vote in our poll:


Loading ...