Please cast your vote. Voting is anonymous.
Are you taking part in the Uber Log-OFF strike Monday 6 Aug, 2018 7am - 9am?
Yes! (82%, 5,588 Votes)
Maybe. (12%, 812 Votes)
No. (6%, 443 Votes)
Total Voters: 6,843

Loading ...

No Uber, Drivers Log-OFF strike! Monday 6/8/2018. Boom.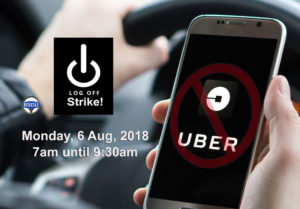 The RSDU are announcing a national Uber drivers' LOG-OFF strike, Monday 6 August 2018 – 7:00 am to 9:30 am in Melbourne, Sydney, Brisbane and Perth.
This following Uber's introduction of "upfront fares" and UberPool, both features designed to further shortchange and underpay drivers, eroding even more their already poor working conditions, all under a false "independent contractors" pretence.
We are calling on all drivers to switch OFF their Uber driver app and refrain from taking Uber bookings between the hours of 7:00am until 9:30am on that day (Monday 6 August 2018 ).  Drivers are encouraged to continue taking bookings from all other rideshare operators during the time of the strike.